Last Thursday 17th the second seminar of the LIFE ALCHEMIA project "Natural radioactivity in water for human consumption" was held online, with great success from the audience.
The seminar dealt mainly with the current problems related to the elimination of natural radioactivity in drinking water treatment plants (DWTPs), as well as other related issues.
The manager of CIESOL, Jose Antonio Sanchez, together with the deputy of European Initiatives, Carmen Navarro and the manager of the OTRI of the UAL, Antonio Giménez carried out the opening ceremony of the seminar.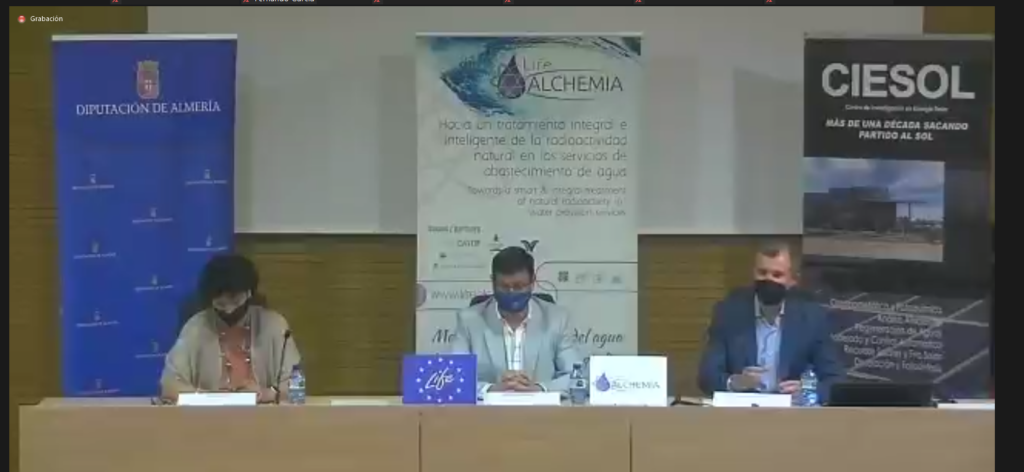 The seminar was attended by different institutions, such as the Nuclear Safety Council (CSN), CIEMAT and the University of Extremadura, among others, who presented interesting aspects related to the radioactivity problem, legal requirements and NORM waste management.
On the other hand, our partner from the Almeria Provincial Council, Francisco Javier Martínez, shared the experiences acquired in the elimination of natural radioactivity. Our partner from the Tallinn Technology University and the University of Tartu, Juri Bolobajev and Siiri Salupere, presented the results of the pilot plant installed in Viimsi (Estonia) achieved in the LIFE ALCHEMIA project. And finally, our partner from CIESOL, Jose Luis Casas presented the results of the pilot plants installed in the province of Almería.
Finally, the LIFE ECOGRANULARWATER project participated, thus addressing another problem related to the quality of groundwater intended for human consumption, such as the elimination of nitrates, phosphates, pesticides, etc.
All presentations (mainly in Spanish language) are available in the "seminars and events" section.